IIM Bangalore: Theory and Practice
– Prof. Rishikesha T Krishnan, Director IIMB 
A pioneer in diversity and inclusion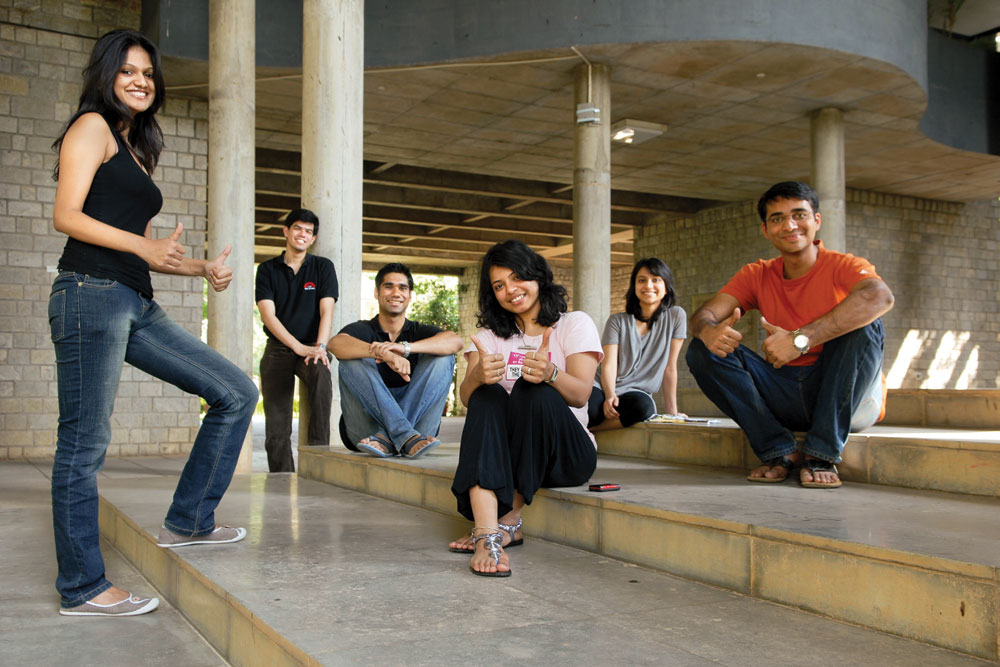 What's your magic?" asked one of the members of our International Advisory Committee at a recent meeting. While he was referring to what differentiates IIM Bangalore (IIMB) from hundreds of other business schools, this set me thinking about the distinctiveness of our institute and what we need to do to sustain it in future.
Though we articulated our vision in its current form only a few years ago, its elements have been an integral part of what we do for well over a decade. Our vision is "to be a global, renowned academic institution fostering excellence in management, innovation and entrepreneurship for business, government and society." What I like about our vision is the aspiration for excellence in whatever we do; our scope extending beyond management to entrepreneurship; and our quest for impact on a wide swathe of stakeholders. This wider canvas is ideal for an "institution of national importance" in the world's second most populous country that is seeking to realise its full potential.
Our mission elaborates how we will achieve this vision and has three elements: nurture innovative global business leaders, entrepreneurs, policymakers and social change agents through holistic and transformative education; provide thought leadership that is contextually embedded and socially relevant and makes positive impact; and pursue excellence in education and thought leadership simultaneously without making any trade-offs.
How well have we done on this? What are our strengths? We recently went through a periodic review of our European Quality Improvement System (EQUIS) accreditation, leading to its renewal for another five years. EQUIS is internationally recognised as one of the most rigorous accreditation processes. It is one of the two global accreditations required to participate in the Financial Times rankings. IIMB was first accredited by EQUIS in 2010. What emerged from the process is that our strengths lie in the excellent profile of our students; our strong doctoral programme; high-quality management programmes which are well-ranked internationally; a strong commitment to digital learning and massive open online courses (MOOCs); strong executive education programmes; a strong connection to practice; a well-formulated diversity policy towards underprivileged students in India and students with disabilities; and strong achievements in research and publications in top international journals.
What enabled these? Education is a human talent-driven activity, so an obvious driver has been our very capable and talented faculty and non-teaching staff. But other factors have played a role. While there is really no shortcut to educational excellence, if I look back, one important element has been innovation. Another has been adapting to key changes in the environment.
Successive leadership teams at IIMB have been able to identify new opportunities and address them successfully. In 1998, just as the Indian software industry was about to take off, we leveraged our location in Bengaluru, the hub of the Indian software industry, to start a weekend MBA-equivalent programme with support from the industry to develop the managerial talent it required. A few years later, we worked with the Government to set up a Master's-level programme in Public Policy and Management to help strengthen policy and managerial capabilities in public systems. And, in 2014, we embraced MOOCs by becoming an edX partner resulting in over 50 high-quality management courses offered globally on this powerful platform over the next seven years. We are proud that, according to a recent study, two of these courses are among the 100 most popular edX courses of all time and that around two million learners have enrolled in our MOOCs courses since inception.
By around 2005, the institute collectively realised the importance of thought leadership and reoriented itself in this direction. We changed our norms and processes for faculty recruitment and selection, as also for performance appraisal and incentives to reflect this change. In tune with international best practices, a tenure-track system was introduced in 2014. The result has been a significant increase in high-quality research output focused on the top research journals. At the same time, we have tried to remain contextually relevant by directing our attention to problems relevant to "emerging" economies like India. Our research output in journals is complemented by hundreds of case studies on Indian and global companies in the Indian environment, and impactful books by our faculty like the recently published Inclusive Business Models and Platform Business Models.
In recent years, we realised that there is an emerging need for specialised MBA programmes that integrate deep technical skills with management. The first such programme, an MBA in Business Analytics, was launched in 2020. This programme has enabled us to create a template for future specialised MBA programmes.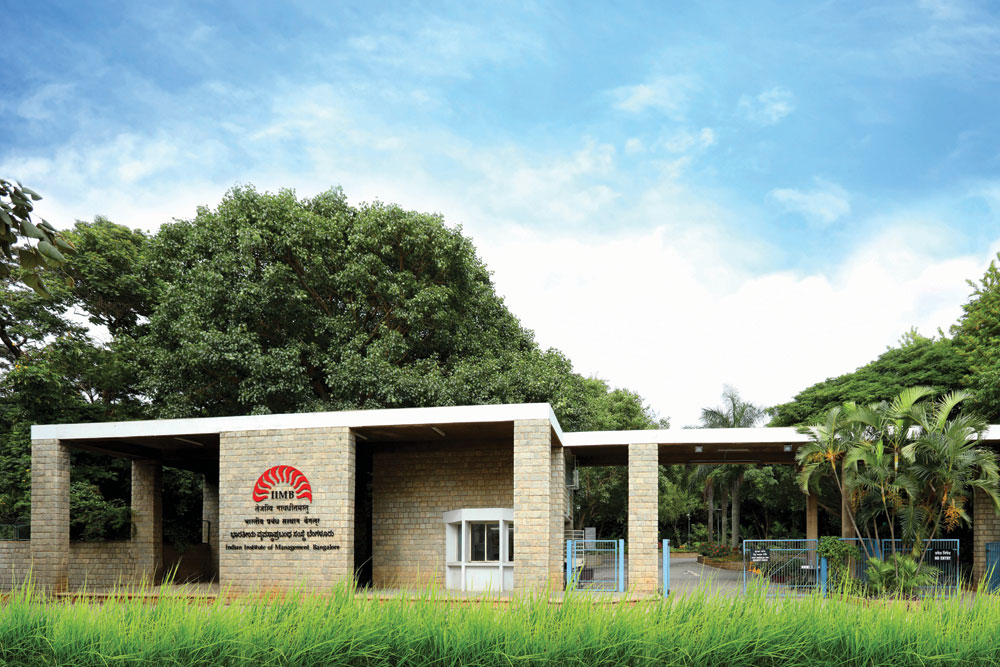 More recently, the institute has been innovative in addressing national challenges. One such key national challenge is driving economic growth and employment through the growth of startups. IIMB has been a pioneer in this area with our entrepreneurship development programmes and incubation support under the umbrella of the NS Raghavan Centre for Entrepreneurial Leaning, recently completing 20 years of impactful contributions. We have a distinctive niche in this arena—a focus on the early-stage entrepreneur. A noteworthy recent development is our ability to do this at scale. Just a few months ago, we ran an online women's entrepreneurship programme supported by the National Commission for Women that was attended by a few thousand women entrepreneurs.
The need for greater diversity among faculty in India's leading institutions is well established. One of the reasons for a relative lack of diversity among faculty is the inadequate number of individuals across different categories who have the rigorous training offered by a high-quality PhD programme. IIMB realised that there is a need to provide a pathway for talented individuals from disadvantaged communities to enter such PhD programmes, and we therefore launched the NS Ramaswamy pre-doc programme a few years ago. The institute provides a fellowship and individual mentoring support to each selected candidate of this programme, and over time, we expect this initiative to contribute towards having a pool of qualified faculty candidates for management and social sciences institutions across the country.
Another pathbreaking programme is the Mahatma Gandhi National Fellowship (MGNF) designed by IIMB for, and in collaboration with, the Ministry of Skill Development and Entrepreneurship. The MGNF is designed to select and train one individual for each district of the country who will work closely with the district collector/district magistrate to support innovation and entrepreneurship in that district, leading to greater employment opportunities at the district level. Other IIMs have now joined hands to diffuse this programme across the country.
SO, WHAT'S the IIMB magic? The "macro magic" of identifying new opportunities described above is complemented by a strong "micro magic"—integrating theory and practice, generalisation and context, best practices and next practices, to provide unique immersive learning experiences. Historically, the principal arena was the physical classroom. Increasingly, we are trying to extend this magic to the digital space as well.
Another reason for our success is our recognition of the need to combine relevance with rigour, and flexibility with discipline. The faculty is encouraged to keep the syllabus of the elective courses up-to-date and do continuous improvement every year. But each course needs to be reviewed by the Institute Courses Committee if it has been modified by more than 20 per cent. And all courses need to go through a review once in four years.
Another mechanism to ensure quality is periodic programme reviews. All our academic programmes go through a comprehensive review every four-five years. As a result of the recently concluded review of our flagship two-year MBA programme, we are including a new core course on Managing Digital Business and strengthening the content on responsible business to reflect the growing importance of environmental, social and governance (ESG) concerns.
There is evidence that this works—in the last year, IIMB students apart from being recruited by leading international and Indian companies, have figured among the winners of an international contest conducted by Cornell University, and national contests organised by Arthur D Little, Asian Paints, HUL and L'Oréal with themes spanning innovation, supply chain management, technology and marketing after competing with other top global and Indian business schools.
ALONG WITH INNOVATION, IIMB has successfully scaled the twin towers of diversity and inclusion. After all, we were a pioneer in providing outstanding learning experiences for students with disabilities. Right from the day a student with disability enters the IIMB campus, we facilitate their physical access to the campus. More importantly, we ensure their intellectual and learning access through support customised for each individual. We have a high degree of diversity among our student body on multiple dimensions. We are now focused on other aspects of diversity—broader representation of different social groups in our faculty body and more international students in the classroom.
Consolidating our foundation in digital learning and building on it is the second challenge. IIMB has a long history of working with emerging technologies to enhance access and learning. We were one of the early institutions to embrace countrywide executive education using VSAT terminals. Later, we used dedicated channels from ISRO to extend our classes to Chennai. We have been a domestic pioneer in MOOCs. How do we integrate our experience and expertise across these technologies and platforms to build the next generation of seamless digitally immersive learning experiences?
Measuring and deepening impact is the third challenge. Globally, business schools have come under the scanner with influential parts of society questioning their impact. Reflecting this trend, education regulators and accreditation agencies are expecting business schools to not only work on creating deeper positive social impact but also adopt appropriate metrics to establish the impact they are creating. Based on these developments, we have identified economic, knowledge-based and responsibility-driven impacts as three dimensions that we need to focus on in whatever we do.
AGAINST THE BACKDROP of the National Education Policy's focus on multidisciplinary programmes and the shortage of high-quality options in undergraduate education outside technical disciplines, IIMB plans to enter the undergraduate education space in 2023, our Golden Jubilee year. To start with, we will offer majors in Economics, Behavioural Sciences, Data Science and Environment & Sustainability. The programme will be offered at IIMB's upcoming campus about 25 km south of the present campus. The programme will combine the best rigour with some of the key elements of liberal arts education like critical thinking and communication. This will, we believe, enable us to shape the leaders of tomorrow.
In parallel, we intend to use the expertise we have developed in online education to offer a range of courses to sectors essential to the country like hospitals and healthcare, government and public policy, and micro, small and medium enterprises (MSMEs). Inspired by the online undergraduate degree in Data Analytics offered by IIT Madras, we also plan to offer an online Bachelor's degree combining digital technology and entrepreneurship.
These new offerings should help us not only recreate the magic of IIMB but also reinforce and extend it to other forms and modes of higher education.
Source: OPEN Magazine