Snippets
Balu Nayar Appointed Head of Global Corporate Strategy and Planning by London Based Go Sports & Entertainment
Balu Nayar, former Managing Director of IMG India has joined the board of London based Go Sports & Entertainment Limited as Head of Global Corporate Strategy and Planning, and also assumes the role of Managing Director (Asia).
Speaking from his home in Mumbai, Balu said of the appointment "I'm delighted to join a dream team with incredible experience across sports and entertainment. We will look to build a valuable business that gives great value to today's audiences, sportspersons and sports entities around the world, taking advantage of the varied opportunities that exist in the ecosystem globally."
During his distinguished career Balu Nayar has created two multi-billion dollar businesses from scratch, in the mobile Internet and sport sectors. Mr. balu is alumnus of IIMB from the PGP 1989 Batch.
We wish you many congratulations on your new role.
---
Prof Arnab Mukherji on Lancet panel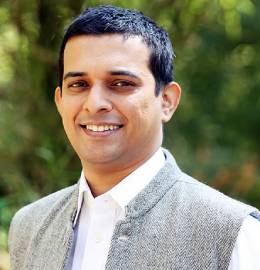 Professor Arnab Mukherji, faculty in the Public Policy area at IIM Bangalore, is part of the Lancet Panel, comprising of 21 experts. The panel has made 8 recommendations to the Centre, States to fight COVID-19.
Among measures suggested by the members of the commission to manage the situation in India are: the organisation and financing of essential health services be decentralised to districts, a transparent national pricing policy and caps on the prices of all essential health services, and evidence-based information on the management of Covid-19 be widely disseminated, including guidance on what not to do.
---
Anand Sri Ganesh joins NSRCEL as COO
N Anand Sri Ganesh joined the institute in April 2021, as the Chief Operating Officer – NSRCEL. He has completed his B.Tech from IIT Madras and Post Graduate in Management from IIMA and comes with 25 years of experience.
Mr Ganesh hopes to help entrepreneurs take disruptive ideas from seed to scale,
creating impact at scale through entrepreneurial innovation and knowledge capital.
---
CarDekho Strengthens Its Product And Tech Leadership Teams
Dharmesh Gandhi, alumnus IIMB and IIT Kanpur, has over 16 years of experience in product management, marketing and engineering roles for e-commerce, digital advertising, video and smartphone products. Dharmesh has previously worked in product leadership roles at Rentomojo, Uber, Amazon and Cisco, where he took products from concept to market, covering aspects of monetization, product design, customer development and marketing.
We wish you many congratulations.
---
Endless Possibilities : Some factors to consider – An informative article by Rakesh Godhwani
The summer months are extremely trying for college aspirants and their parents as they wait for the Class 12 results and to know the outcome of their applications to various higher educational institutions. How does one select the right college or university? It is imperative not to succumb to societal pressure and opt for a college based on its reputation. The safe way would be to look at their rank, reputation, and placement data. However, it is also important look beyond the name and select colleges that equip its learners with tools to explore 21st century possibilities.