Snippets
L-Square gets its Wall of Fame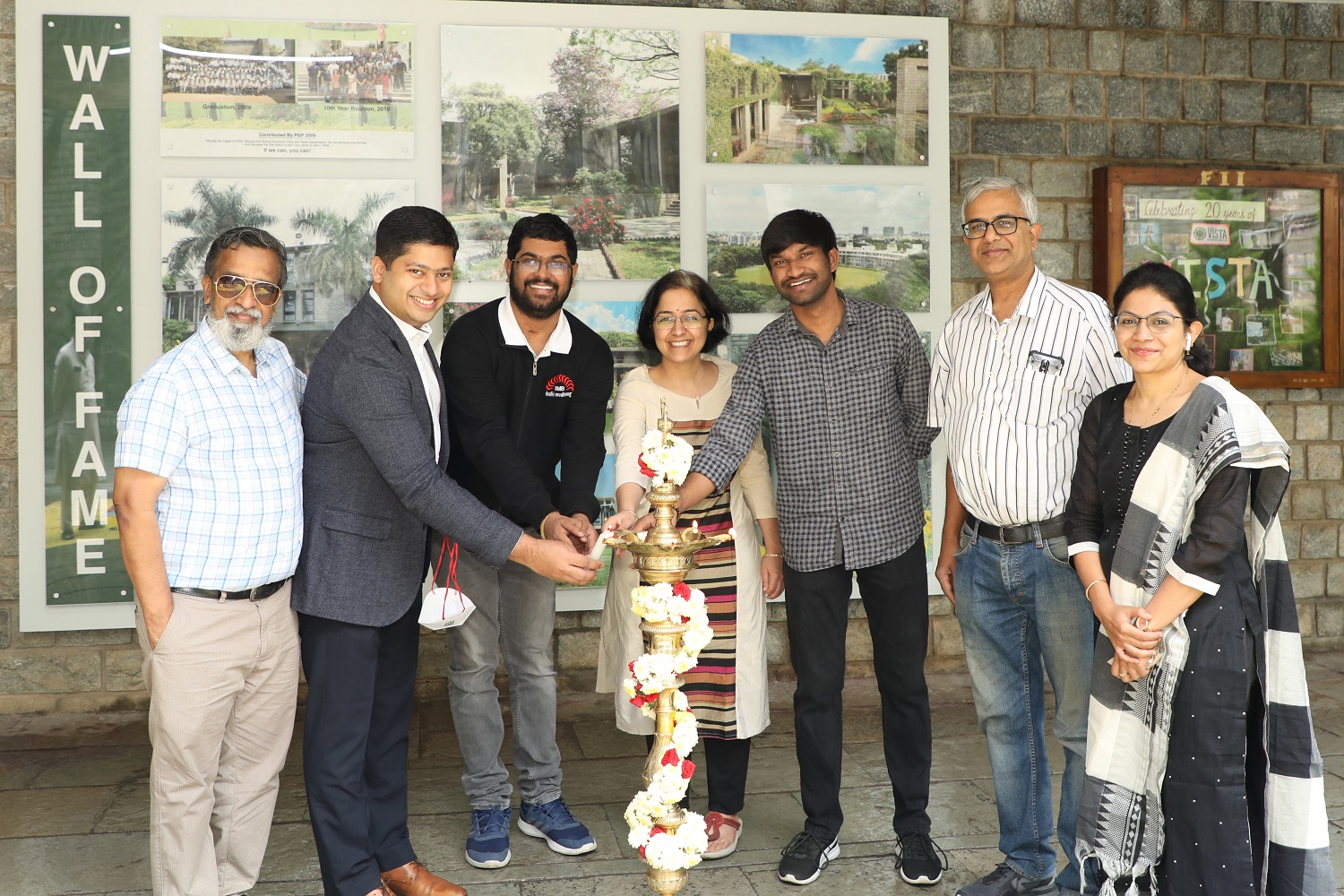 The PGP Class of 2009 had donated INR 52 lakhs as part of their "Giving Back" campaign during their 10th-year reunion in December 2019. A part of the contribution (INR 12 lakhs) was used to fund the ambulance for use by the IIMB community. The remaining amount has been channelled towards fractional naming rights at L-square, which is vibrant part of the IIMB Hostel.
As a part of this initiative, the IIMB Alumni Relations & Development Office has installed a board called 'Wall of Fame', with a collage of the Class of 2009, to acknowledge their donation.
The event was marked by a lamp lighting ceremony, at 10:00 am, on 19th November 2021. Ms Parul Bajaj and Mr Shyam Unnikrishnan, from the PGP Class of 2009, Prof. K Kumar, Dean, Alumni and Relations & Development, Parthasarathy S, Head, Alumni Relations, and Suresh K, Head Development Office, were part of the ceremony.
---
50 days on the road – Reflections: All India Road Trip
Hemant Albert Soreng (IIMB PGP 1997) or "HAS" as he is fondly called by his IIMB friends and batchmates is on a mega six-month long All India Road Trip that started on 2nd October 2021 – Gandhi Jayanti Day from Bangalore. Here is the update and his reflections after 50 days on the road.
Visited 11 States, 4 Union Territories
Distance Covered: 9,550 km
Weight Gained: +5 kg (for sure)
Content captured: 2.96 TB
Had Memories & Experiences: Limitless & Unforgettable.
And there's only one word to describe how I am feeling:
OVERWHELMED!!!
It has been very, but I have managed to put together our reflections based on what I have observed. Here it goes…our top ten.
1/ India is indeed a beautiful, colourful and diverse country, rather a subcontinent with multiple countries.
2/ Indian are traveling more than ever and they know other places. cultures.
3/ The roads are very good, and getting better.
4/ People are generally nice and helpful but one could sense the polarisation. But the good news is that the younger generation doesn't give a damn about such divisiveness.
5/ The food is just awesome everywhere you go with warm local hospitality. Fitness freaks & calorie counters need to adjust to the "sinful" realities.
6/ The crowds of travelers are back…in hordes…without masks. You ask them. The reply is Covid, what Covid? Public memory!!!
7/ Not at all missing Netflix, Amazon Prime Video, TV etc. The entire day's experience is just amazing every single day.
8/ Have realized that one really doesn't need much…in life. Have seen it on this trip based on how much I have packed and how much I actually use.
9/ Don't overthink, just do it, whatever you are passionate about. I have met people who are doing it with much less.
10/ Finally, I now truly believe that if you have the intent, the Universe conspires to make it happen.
50 days into the road trip without any sponsors and esp. after coming out of 1.5 years of pandemic with no travel and therefore no income, the odds were just stacked against us. But, thanks to all the friends, acquaintances who came forward to help, contribute, meet us, travel with us and each day spread the word around. Further, help is coming from unexpected quarters. And of course special thanks to Indiatourism Bengaluru, Govt. of India, Ministry of Tourism for all the support that have been providing us.
However, the road trip is far from over and I would need continued support to reach the finish line.
So, if you have been reading this and reached this far, please do amplify the buzz, join me on the road, spread the word, and support those who need it the most by contributing to the campaign.
Details at https://rustiktravel.com/allindiaroadtrip/support
---
IIM Bangalore Witnesses Record Summer Placement Season
513 students get 542 internship offers over two days
The Summer Placements for the PGP and PGP-BA Class of 2021-23 of the Indian Institute of Management Bangalore (IIMB) saw 542 offers, leading to all 513 students who appeared for placements being placed over two interview days.
Professor U. Dinesh Kumar, Chairperson, Career Development Services, IIM Bangalore, said: "This is one of the best summer placements we had in the recent years. There is a clear signal from the recruiters that the economy is reviving, and the industry is looking for talent in large numbers to manage the post pandemic market."
According to Harshit Verma, Student Placement Representative, "We witnessed an increase in high-paying offers across sectors. We saw a rise in offers for Finance roles, while Consulting continues to be most sought-after."
Dr Roopa Adyasha, Senior Manager, Career Development Services at IIMB, said: "Amidst a challenging post-pandemic business environment, IIMB witnessed an upsurge of hiring from various sectors of the industry. We thank the recruiters, our alumni and all the stakeholders involved in the summer placement process."