Snippets
Prabha Narasimhan named as CEO of Colgate-Palmolive India
Prabha Narasimhan has been appointed as the CEO and MD of Colgate-Palmolive (India) Limited. She succeeded Ram Raghavan, who has been promoted to the role of President, Enterprise Oral Care, at Colgate Palmolive Company. Prior to this, she was working as executive director of Hindustan Unilever (HUL). Colgate-Palmolive (India) provides oral care products under the 'Colgate' brand. It also provides personal care products under the 'Palmolive' brand name.
Many congratulations.
---
PGPPM alumnus Amitesh Bharat Singh conferred with President's Award for 'Specially Distinguished Record of Service'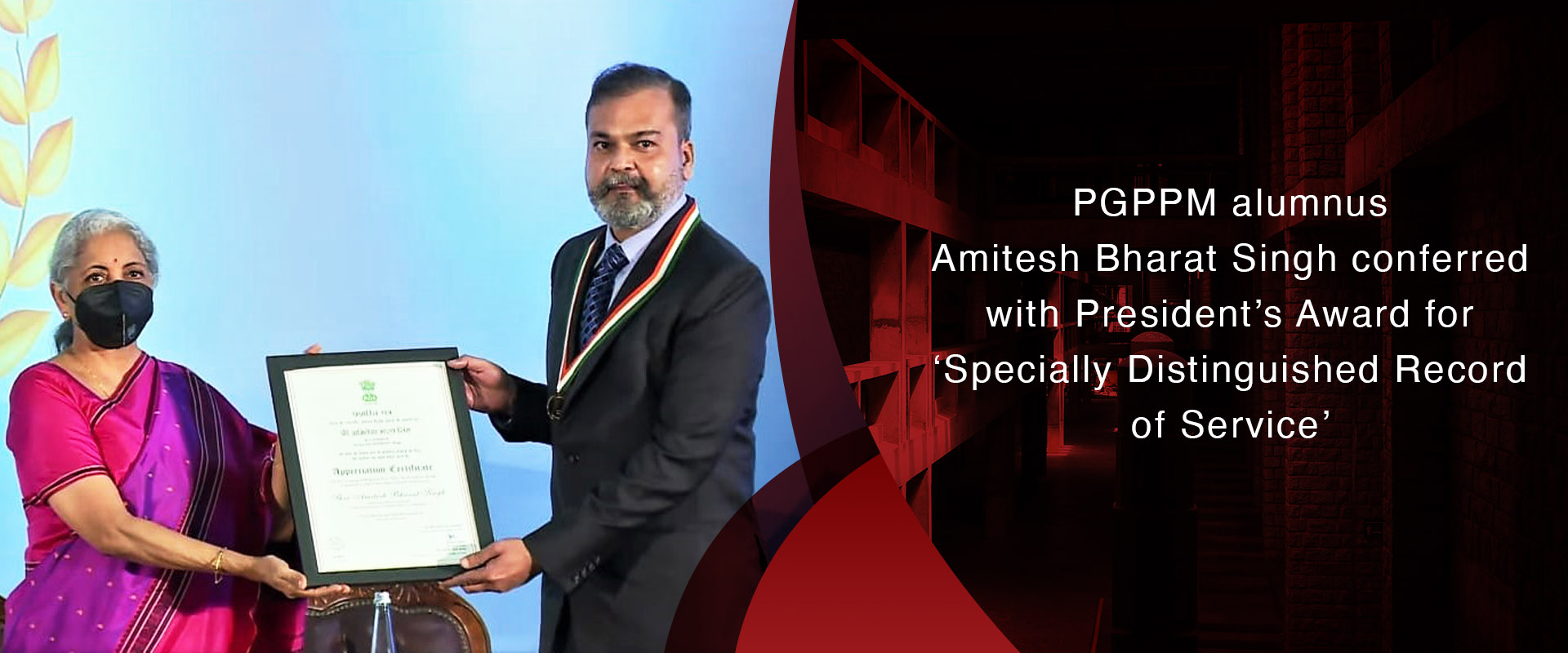 Shri Amitesh Bharat Singh, an alumnus of the Post Graduate Programme in Public Policy and Management (2015-16) at IIM Bangalore, has received the President's Award for 'Specially Distinguished Record of Service'. Union Minister of Finance Smt. Nirmala Sitharaman awarded him the certificate and medal, in an investiture ceremony, on March 7th, 2022.   
Shri Singh was appointed to the IRS (Customs & Central Excise) in 1997 and currently heads the Directorate of Revenue Intelligence (DRI), Zonal Unit in Karnataka. The DRI is the apex intelligence and investigation agency for anti-smuggling and trans-border crimes in the country. He has served in Customs, Service Tax and Central Excise, and GST Committees in India, and has handled public and taxpayer communications as ADG DGTS for the Karnataka and Kerala region. He has served as a Diplomat, being stationed as First Secretary (Commerce) at the Indian High Commission in Singapore. He has served as Deputy Director DRI at Delhi. He actively mentors young officers.
Many Congratulations.
---
Why Should Crude Oil Prices Go Up?
Arun Balakrishnan, PGP 1976, writes an interesting and thought-provoking article available on rediff.com about rising crude oil prices and why the price should soar. He explains the subject with much ease with logical reasoning. Arun Balakrishnan is the former Chairman and Managing Director, Hindustan Petroleum.
Click here to read the article..
---
IIMB Alumni Vikash Sharma starts school for under priviledged
Vikash Sharma is from PGP 2006 Batch and B.Tech from IIT Kharagpur. After quitting his job in Germany, he decided to start a school for the underprivileged in Aurangabad, Bihar www.risehighpublicschool.com. The CBSE school has more than 325 students and has topped SOF Olympiad.
Vikash aims to create affordable, experiential, high-quality, primary and secondary schools for rural districts of India. Currently, the school is operational in Aurangabad, Bihar. It is from 1 – 10th Class that will be upgraded till class 12.
IIMB's renowned Professor Dr. Rupa Chanda is also one of the Board of Governors.