Wave Makers: Comrade Marathoner – Rashmi Mohanty, PGP 95
Some people are born to inspire and create a ripple effect that changes how individuals think. Ms. Rashmi Mohanty is one such example. Rashmi is currently serving as the Chief Financial Officer of Clix Capital and is settled in Gurgaon with her family (Husband and Two kids). She has her hands full with responsibilities at work and as a mother & wife. Despite her busy schedule, she has followed her passion for the sport of running.
We had an opportunity to interview Rashmi and though the questions are ours, the answers are hers. In her own words.
How did you get into running? especially the long-distance marathon runs?
I had my second child when I was 36 and in the busy world of being a mom to two toddlers, a full-time job and managing household chores, my health took a backseat. At 38, I decided that I wanted to enter my 40s a fit woman and took up exercising seriously. Of all the routines, I really enjoyed the 30-40mins of running as a way to fit. This was in 2010 and long-distance running as an exercise and fitness events had just taken off. I found a group of like-minded people. Being the only woman in the group, I was well taken care of, motivated and with their support started a journey with a 10k and 10 years later have enough half marathons, marathons, and ultra distances – longest being 130k under the belt.
What has been your most fulfilling run? and what's next?
Every race – which is a first to me – is fulfilling, my first 21k to my first 100k to my first ultra trail run. When I stand at the start line, I know when I finish this run – in whatever conditions, whatever time – there is something new and exciting I will discover about myself. It could be something about my training regimen – what works, what doesn't, or to my level of mental strength and will power – endurance to bear pain or even plain monotony.
If asked to pick, two of my ultra runs will always be remembered – my first 100k distance in Bangalore Ultra 2017. It was my day and in under 13 hours, I finished the distance smiling, chit-chatting and literally flying on the course. The second run would be my first Trail Ultra of 100k distance in HK on the Maclehose trail. It was brutal and beautiful at the same time. In those 24 hours, with many lonely stretches in the night, I discovered that "I can live by myself forever" !!
My next goal is to do a 100miler.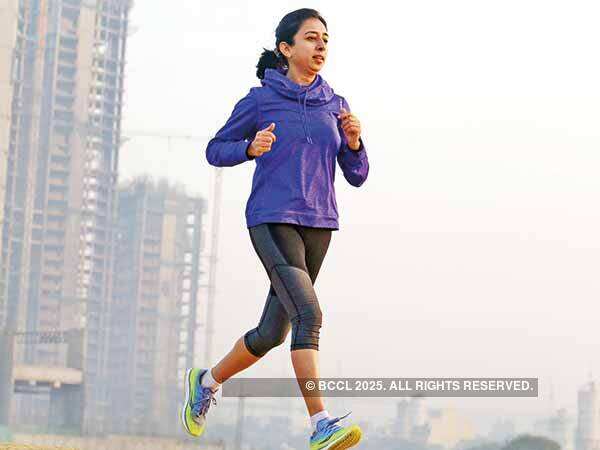 Any lessons from running? Both personally & professionally?
Running a marathon is a metaphor for life. You learn to break your goal into smaller goals, to look at each obstacle as a challenge, to adapt and reorganize on the go, to not be afraid of experiments or taking calculated risks, you learn that you can do more than what you think and yet at the same time you learn humility and to value relationships… It's said that when your mind says you are ready to quit – you are only 40% spent physically. Most of all you learn not just how to "Keep at It" but how to "Patiently Keep at It".
Any myth busters about running that you would like to demystify?
Its bad for Knees –not sure where that came from.
Being a woman, it is commendable of you to pursue your career, family, areas of interest with equal zest. What's your mantra?
Priortise !! I am not a superwoman and don't want to be one – DC has enough already to manage !! but the only way it has worked for me is by prioritizing – it could be work and family or it would be my running if I am training for a big race. And I have learnt to let it go sometimes. World can go by without me for a few days !!!
Any advice for alums looking to pursue a sport or a physical regime?
As simple as lace up your shoes now and go do what you are comfortable with. Find a buddy, set a realistic goal and then chase that dream. Trust me that the high you get with achieving that goal surpasses any drugs!!