Corporate Leader: CEO – Aditya Birla Sun Life – A Balasubramanian, AMP 2008
A Balasubramanian is currently serving as the CEO of Aditya Birla Sun Life AMC and his association with the Birla group is 26 years strong. He has climbed up the corporate ladder by staying focused while living by the values of honesty, integrity and diligence. In this interview, he talks about various aspects of corporate life and providing insight based on his experiences.
Can you please tell us about yourself.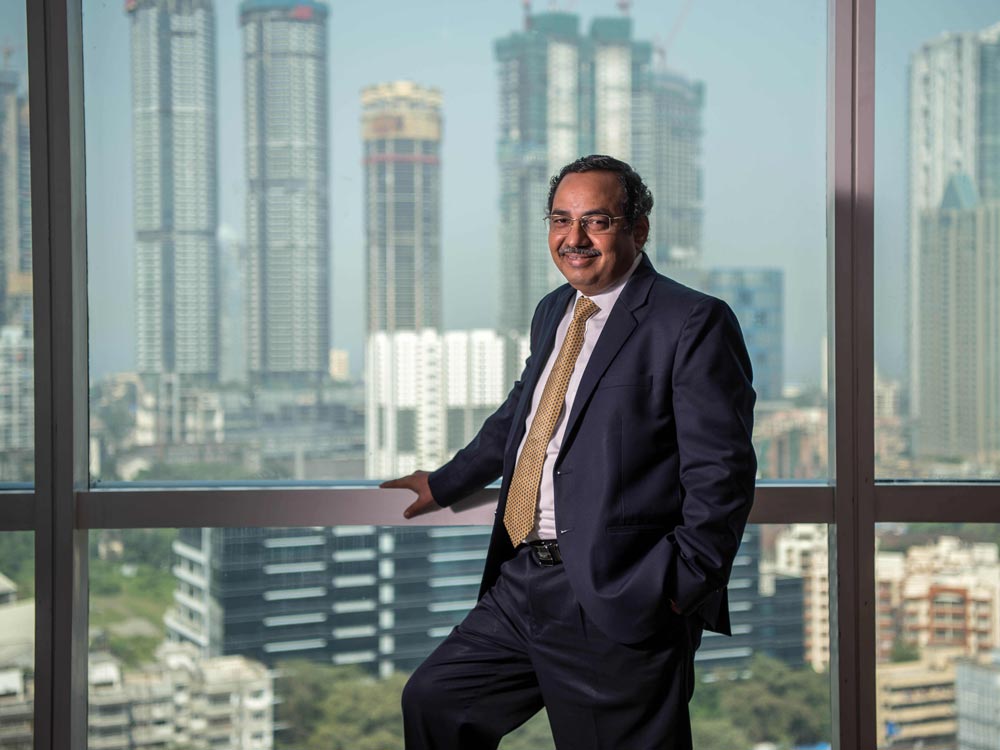 I have been with the Aditya Birla group for the last 26 years, I began my journey with them back in 1992 as a Senior Dealer. I was given the opportunity to grow within the group, and over time have raised through the ranks. I have held many positions of Chief Dealer, Country Head, and CIO. I was promoted to the position of CEO in the year 2009. Before joining the Aditya Birla group I was working with GIC Mutual Funds as a Senior Trader and have also worked with Canara Bank.
On the personal front, I come from a village background. I did my schooling in the village Mellatur in Tamil Nadu and later moved to Mumbai for further studies and work purposes. I did my graduation from Bharathidasan University while working at the same time. I always wanted to do an MBA but time was a constraint. Doing an AMP course at IIMB gave me a fresh perspective and regaining knowledge for building leadership qualities.
The course helped me in terms of learning, getting a general insight on organizational dynamics, the need for managing, market-level activities for any funds and how to build companies for the future among others. Case studies provided greater learning on building around the business. All these learnings came in handy when I became the CEO.
Can you please tell us about your family?
I live in Mumbai, with my wife Lakshmi, my daughter and son. My daughter has just completed her studies in medicine and is working with The Sri Satya Sai Sanjeevani. My son is pursuing engineering.
You have been associated with Aditya Birla for nearly 26 years now. Was it a conscious decision and how has it paid off for you?
I joined the Birla group in 1995, coming from the public sector. It was considered a matter of great pride to be associated with names like TATA's and Birla's at the time. This gave me a sense of stepping stone in the journey to follow. With the brand value such as Birla, I always debated with myself if I was better off to remain in the company or switch for monetary benefit.
The learning curve in Birla is faster than compared to many other companies. The leadership also has a keen eye to identify talent through assessment. I was fortunate to be recognized and awarded the Most Exceptional Contributor Award in 2004. This was the first award I got from our chairman, then. Leadership at Birla nurtures talent this keeps the people motivated to grow within the system. I was given the opportunity to grow in the company every few years. The idea of excelling in the company gave me far greater satisfaction than moving to another company.
Additionally, Birla let me work on industry-related activities as well. Back then, Mutual Funds was a new booming industry which was on a learning curve and I was able to get involved in making policy-making initiatives. I also became the chairman of AMFI in 2016.
In brief, all I can is that hard work and efforts always pay off as long as an individual stays true to their goals.
How do you build a motivated team? Any tips or any mantra that you would like to share?
One thing that I strongly believe in is that genuine efforts yield a good outcome. Nothing is impossible to achieve. Another important aspect is to remain humble. The power that comes with a high chair is that it is only temporary. It should never come in the way of humility. Passion also plays a major role in building a motivated team. Higher commitment from the people in leadership roles brings in high growth and initiation among the team members. Finally maintaining positivity and team morale is very essential.
As an leader, you lead by setting an example by expressing your own happiness and the need for remaining agile. Leaders should be accessible to extend support to the team members facing challenges and resolve their concerns.
As chairman of AMFI, you ran a very thoughtful campaign – "Mutual Funds Sahi Hai", what was the idea behind this?
As the chairman of AMFI it became my responsibility to run advertisements to spread awareness about mutual funds. We invited several agencies and industry experts to bring forth their ideas for the campaign. The idea was to introduce a common topic for discussion in every household. Something two people can freely talk about over a cup of tea/ coffee. We wanted investments to become a conversation for every individual.
The campaign was a huge success and then we decided that for a better understanding of mutual funds, we should change the ad campaign from a risk angle to an opportunity angle like how it could help save money, long-term gains, wealth creation, etc. We wanted to highlight the benefits of investing in mutual funds.
The campaign was launched on 10th Mar'2017 and we ran it for nearly 2 years. We also made it compulsory for every mutual fund to talk about it as a brand. It created a sense of transparency and instilled confidence in investors. In short, the success of the campaign was due to all the joint efforts by the team members and industry players.
How is India different in its approach to investments compared to other countries?
In countries like the US, mutual funds are a way of investing whereas in India that's not the case. Mutual funds are still not considered a vehicle for investments. It is fundamentally different because of how markets work in every country. In the US for example, Mutual Funds are given high importance under the 401k Plan which is essentially a retirement plan. In India, we consider insurance as a retirement plan whereas mutual funds can provide a higher return on investment. It is one of the main reasons that investments caught up slowly in the country.
However, the mutual funds market share (bank deposit) has risen from 13% to 19% in the last few years. There is still a lot of room for growth in this space. I would credit Mr. Modi's demonetization policy for redirecting money to the banking system and some of it made it to investment banking as well.
Any significant change that Covid has brought along in your business sector?
Covid has certainly changed our way of thinking. People have understood that they could work efficiently from their homes without having to come to the office using technology. Soon after my completion of AMP at Harvard, I returned to India and implemented zoom for all meeting purposes. We have been using zoom since 2018 for all our sales connectivity. So when Covid struck, we did not have to additionally train our staff for online accessibility. Technology adaptation will bring new business opportunities and also become a way of life in the near future. With the acceptance of remote working, talented individuals will not be limited by their proximity to the workplace.
On the other front, Covid time has brought a lot of distress among individuals. So we introduced constant engagement with team members to emphasize on mindfulness during these testing times.
Post-Covid when the economy is in its recovery phase, which sector/market looks most promising than the others?
Banking and private are robust sectors. Due to the adaption of technology, Fintech platforms also look promising. With the recent budget, power sectors, real estate sector, refinacing of roads. And ofcourse the health sector shows a lot of potential.
How was your childhood? Can you tell us more about your growing up years?
I was born in Mellatur, a small village in Thanjavur district in Tamil Nadu. The village is famous for its rich heritage, temples and art forms. I was the youngest of the 8 siblings hence I was a pampered child of the house. I did all my schooling in the village but had to travel to Thanjavur and Pondy to higher studies, as those were the nearest towns and city.
I remember drawing water from wells as there were no pipelines and bathing in the ponds. We also had some agricultural land and I used to assist my father with bookkeeping and other related activities.
About 6 years ago, I and my brother, Kumar, took over the village school. The old school infrastructure was very poor, so we reconstructed a lot of it. We have additionally made gender-based toilets under the Swacch Bharat scheme. It's a government-aided school which provides mid-day meals but in addition, we provide breakfast meals as well to encourage higher footfall in the school. We also celebrate various festivals and distribute clothing, books and stationery to motivate children and parents. Our enthusiasm has encouraged teachers to become better providers. I always wanted to do something for my village since all my siblings and I had studied in the same school.
How do you manage your time?
If the intent is there, finding or making time is not a big deal. Most of the work these days can be accomplished through phone calls. Physically I may not be able to be everywhere but mentally I can be, infact sky's the limit. Delegating work and responsibilities has also helped in managing time. I am believer of keep going and giving it your all.
Any fond memories from your IIMB days?
Getting back to the classroom environment took some getting used to. I used to prepare for classes beforehand especially well for Prof Ramchandran's classes. The course gave me a deep understanding of analytics and business from various angles. Being a trader, we were trained to think quickly and provide solutions, my learnings at IIMB helped me to reevaluate quick thinking with an analytical approach.
I also made many friends who I keep in touch with. I appreciate the commitment and efforts put in by all the professors ensuring we get a good grasp of the concepts.
The campus of IIMB is one the finest in the country with such lush greenery. In spite of being located on the main street the campus has this certain sense of calm & quiet. I wish to visit the campus with my family sometime.