News @ IIMB
IIMB's MOOC courses among top edX courses of all time
The top 100 courses gathered a staggering 32 million enrollments for the platform. Programs offered from IIMB like – Operations Management, People Management were some of the top 100 programs.
edX, founded in the heyday of the MOOC hype, is one of the world's largest online course providers and boasts an active catalog of over 3,500 courses. The world's most well-known and prestigious universities now offer courses on edX: Harvard, MIT, Stanford, Oxford, and Cambridge. According to Class Central's EdX's 2020: Year in Review, edX's total registered learners grew to 35 million, with 110 million course enrollments by the end of 2020.
---
IIM Bangalore gets EQUIS re-accreditation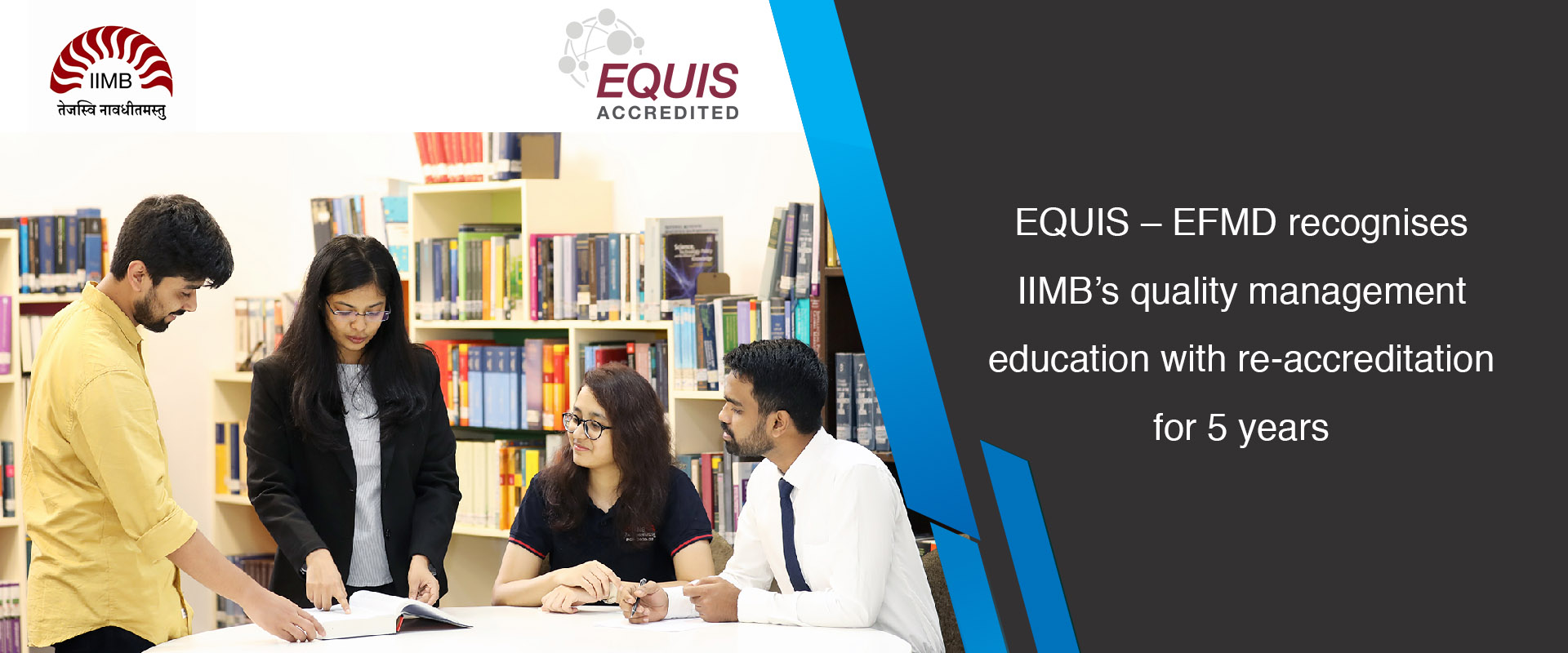 This is the second time that IIMB has received the accreditation for 5 years, the longest period that EQUIS offers.
EQUIS, the leading international system of quality assessment, improvement and accreditation of higher education institutions in management and business administration, has reaccredited IIM Bangalore for a period of 5 years.
This is the second time that IIMB has received the accreditation for 5 years, the longest period that EQUIS offers.
The accreditation team was very impressed by IIMB's achievements and particularly noted the following:
The excellent profile of IIMB's students
Its strong Doctoral Programme
High-quality management programmes which are very well ranked internationally
A strong commitment to digital learning and MOOCs
Its strong Executive Education programmes
A strong connection to practice
Its diversity policy towards underprivileged students in India and students with disabilities
Its strong achievements in research and publications in top international journals
"EQUIS accreditation is about excellence and continuous quality improvement linked to the strategy, vision and leadership. It certainly helps us set a quality agenda for the future," said IIMB Director Professor Rishikesha T Krishnan.
Graduates who study at an EQUIS accredited school can be assured that they will receive international recognition for their qualification, which is extremely important in today's global environment.
---
IIMB's EPGP team 'ProdMen' declared national winners of online case competition 'ProdWhiz 2021' hosted by IIM Indore
The case competition was conducted by Prodlab – The Product Management Club of IIM Indore; IIMB participants included Abhinav Tiwari, Anurag Pingle and Mudit Vaish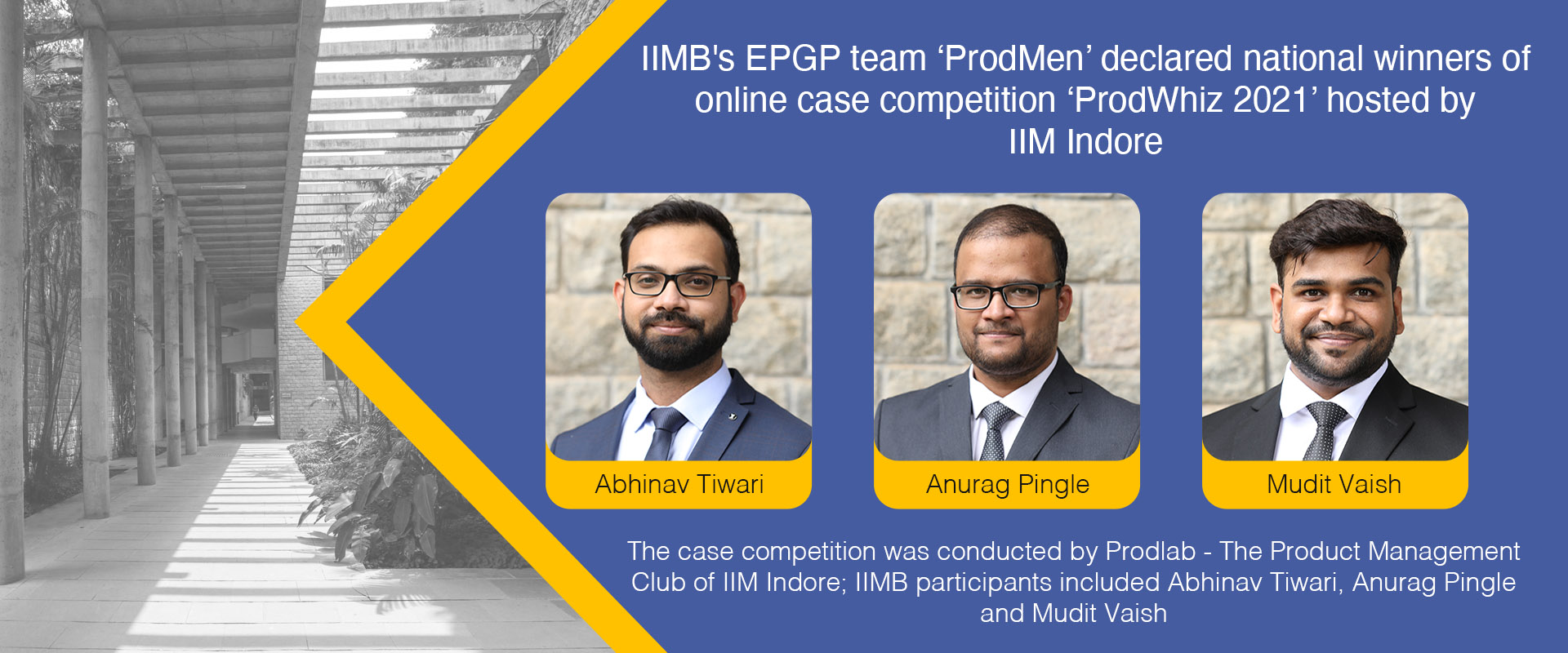 A team from IIM Bangalore's one-year fulltime MBA – Executive Post Graduate Programme in Management (EPGP), 'ProdMen', has been adjudged the national winner of the online case competition 'ProdWhiz 2021', conducted by Prodlab – The Product Management Club of IIM Indore. The contest was held from November 28 to December 14, 2021.
Team 'ProdMen' comprised Abhinav Tiwari, Anurag Pingle and Mudit Vaish of the 2021-22 batch. The award includes Certificates of Recognition and a cash component.
This was the inaugural edition of ProdWhiz – an exciting opportunity for future product managers to test their skills. The contest comprised various rounds of quizzes and problem statements, to test both analytical and creative skills of the participants.
The event witnessed great enthusiasm from participants, with over 600 registrations that came from B-schools across India. After the initial quiz-based elimination round, the remaining teams had to work on a case which tested the participants' Product Management skills against an intriguing business problem in the automotive industry.
Altogether five teams advanced to the final round where they had to present their solutions to an elite panel of judges. After more than four hours of presentations and intense question-answer rounds, Team 'ProdMen' from IIM Bangalore was declared the national winner, while 'Team Midas' from IIM Indore and 'Team Triangle' from IIM Calcutta finished as the first and second runners-up respectively.
---
PAPER CO-AUTHORED BY DOCTORAL STUDENT BIBEK BHATTACHARYA, ACADEMIC ASSOCIATE IPSU KHADKA AND PROF. DALHIA MANI ACCEPTED FOR PUBLICATION IN 'JOURNAL OF BUSINESS ETHICS'
A paper titled, 'Shaking Up (and Keeping Intact) the Old Boys' Network: The Impact of the Mandatory Gender Quota on the Board of Directors in India', co-authored by IIMB's doctoral student Bibek Bhattacharya (fourth-year Strategy student and First Author) and Ipsu Khadka (Academic Associate, Entrepreneurship area and Second Author), and Dr. Dalhia Mani of the Entrepreneurship area of IIM Bangalore, has been accepted for publication in the 'Journal of Business Ethics', which is an FT 50 journal.
Congratulating the winners, Dr. Haritha Saranga, Chairperson, Doctor of Philosophy and faculty in the Production & Operations Management area of IIMB, said: "This is great news indeed for a current student in the programme to get a publication in a journal like JBE. This will set a great benchmark for other students to follow."
---
PAPER CO-AUTHORED BY DOCTORAL SCHOLARS TANYA JAIN AND RAHUL SINGH, AND PROF. CHETAN SUBRAMANIAN WINS SECOND BEST PAPER AWARD AT THE 10TH INDIA FINANCE CONFERENCE
A paper titled, 'Debt Contract Enforcement and Product Innovation: Evidence from a Legal Reform in India', co-authored by Tanya Jain, Doctoral student from the Economics & Social Sciences (ESS) area of IIM Bangalore, Rahul Singh, alumnus of IIMB's PhD programme and faculty in Ahmedabad University, and Prof. Chetan Subramanian, faculty from the ESS area, IIMB, has won the Second Best Paper Award at the 10th India Finance Conference, concluded recently.
The award consists of a certificate and a cash prize of $300 or its equivalent.
---
IIMB YOUNG FACULTY RESEARCH CHAIR DR. ARPITA PANDEY RECEIVES BALA & VASANTHA BALACHANDRAN RESEARCH GRANT FROM THE NORTH AMERICAN SOCIETY FOR MARKETING EDUCATION IN INDIA
Dr. Arpita Pandey, IIMB Young Faculty Research Chair and faculty in the Marketing area, has been awarded the Bala and Vasantha Balachandran Research Grant by the North American Society for Marketing Education in India (NASMEI), for a research paper based on her dissertation.
Dr. Pandey's research was one of the three successful research proposals from over 50 paper submissions that the program attracted. The award includes a cash component to be used for further research.
The recipients were awarded at the NASMEI Marketing Conference held at the Great Lakes Institute of Management, organized by the Kotler-Srinivasan Centre for Research in Marketing.
---
Paper of IIMB doctoral student Velavan S awarded First Best Paper at Management Doctoral Colloquium hosted by IIM Visakhapatnam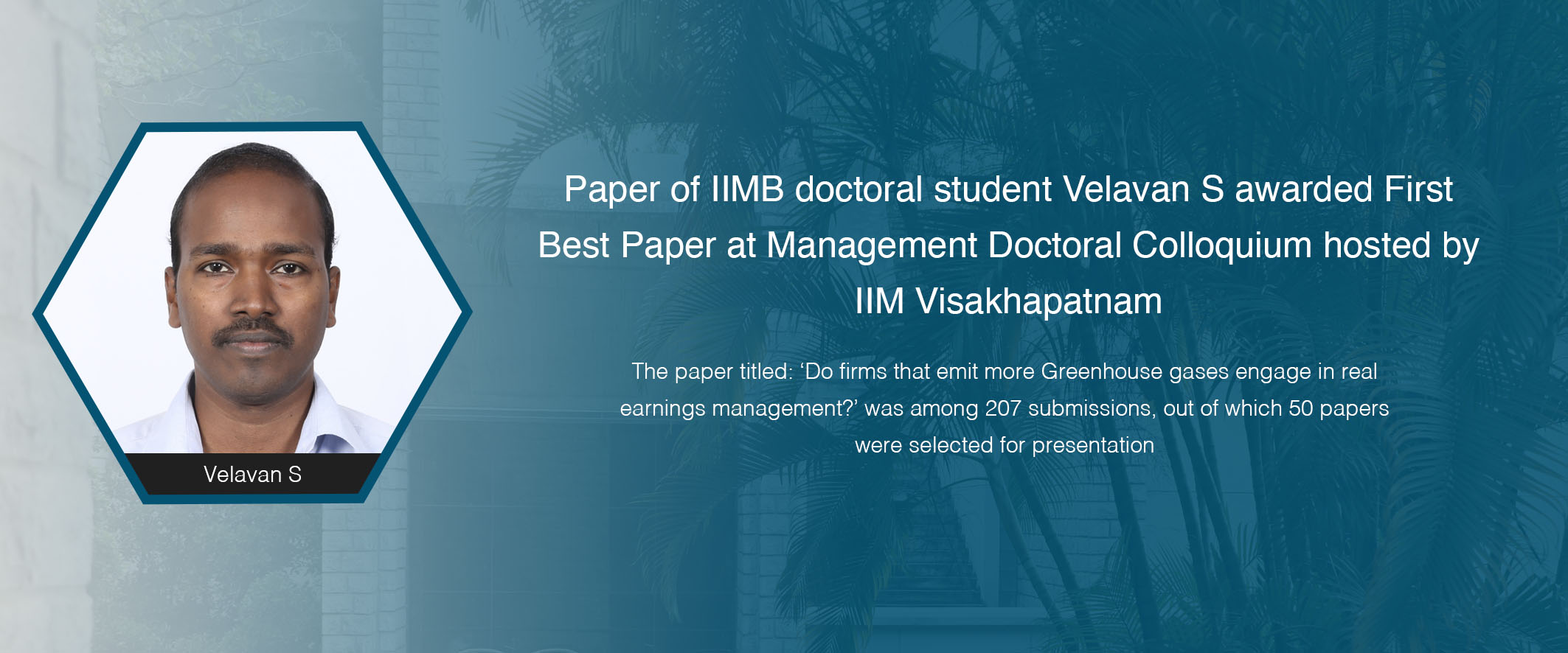 A paper titled, 'Do firms that emit more Greenhouse gases engage in real earnings management?', authored by Velavan S, IIMB Doctoral student of the Finance and Accounting area, has been awarded the First Best Paper at the First Annual Management Doctoral Colloquium (MDC) 'Shodh Samagam' hosted by IIM Visakhapatnam, on December 09 and 10, 2021.
The paper is the second essay of his thesis. Using a hand-matched plant level Greenhouse gases emissions data of US Public firms, he studies the relationship between Greenhouse gases emissions and the real earnings management behavior of the firms in the paper. The study finds that Greenhouse gases emissions are positively associated with all the three major types of real earnings management activities. They have abnormally higher production, abnormally lower discretionary expenses, and abnormally lower cash flow from operations.
There were 207 submissions in total and 50 papers were selected for presentation during the two-day virtual event, across various areas in Management, such as, Finance and Accounting, Strategy, Marketing, Operations, Human Resource, Supply Chain, etc. The presenters were Doctoral students, mostly from the IIMs and IITs. IIMV awarded the top three best papers with Certificate of Appreciation and cash prizes, to promote a quality research culture and encourage the participants.