Recent Events
IIMB welcomes EPGP Class of 2021-22 on 2nd April
Mukesh Sharma, Country Head, Greater China, Tech Mahindra, and alumnus from the EPGP Class of 2010, delivers the special virtual address as chief guest.
Indian Institute of Management Bangalore (IIMB) welcomed 75 students to the virtual inauguration of the globally ranked one-year full-time Executive Post Graduate Programme in Management (EPGP) 2021-22. Twenty percent of the class this year comprises women. Twenty percent of the batch is from non-engineering backgrounds.
Professor Rishikesha T Krishnan, Director, IIM Bangalore, Professor Abhoy Ojha, Dean Programmes, Professor Ashis Mishra, Chairperson, Admissions, and Professor Sabarinathan G, Chairperson, EPGP, addressed the class.
---
IIMB WELCOMES 75 STUDENTS TO PGPEM CLASS OF 2021-23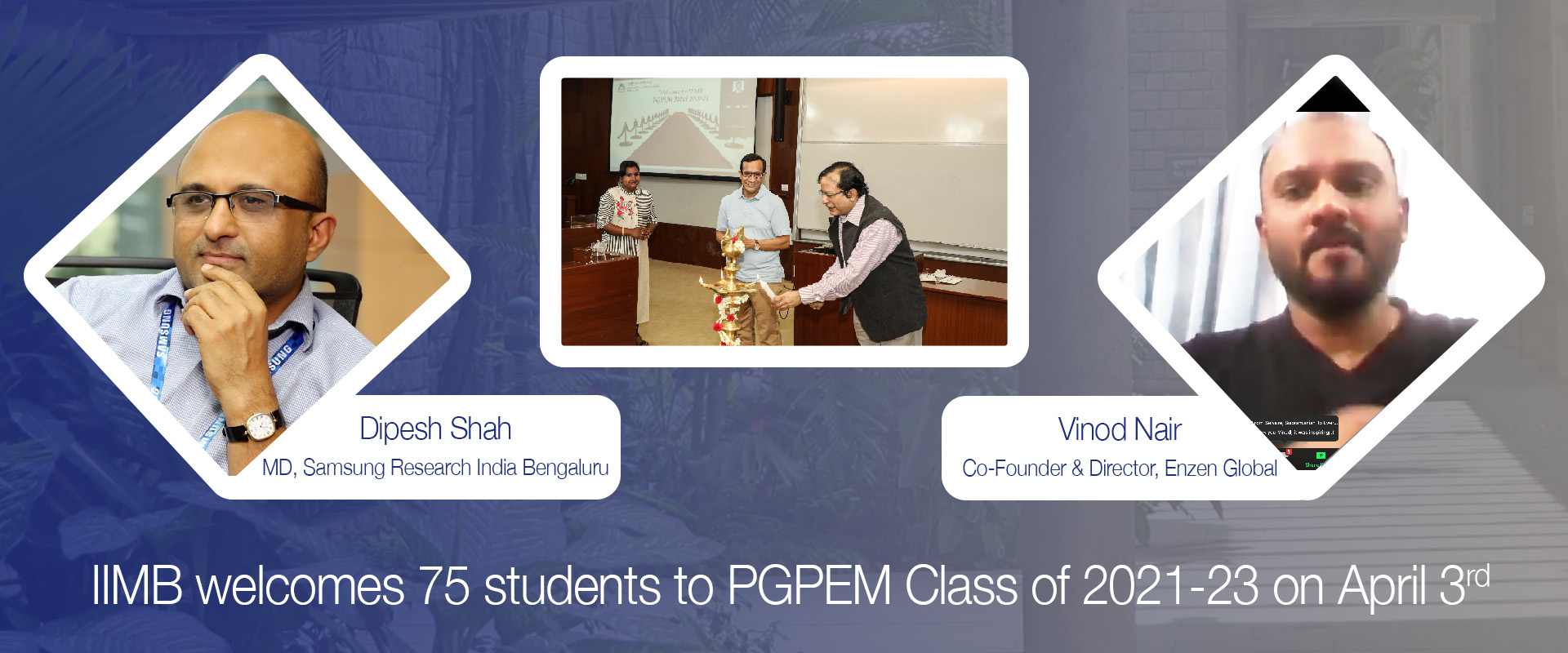 The inauguration of the Class of 2021-23 of the Post Graduate Programme in Enterprise Management (PGPEM), at Indian Institute Management Bangalore, was held this morning. Dipesh Shah, Managing Director at Samsung Research India Bengaluru, and Vinod Nair, Co-Founder & Director, Enzen Global, were the chief guests. The batch comprises 75 individuals, including nine women, from diverse professional backgrounds with an average work experience of 12 years.
IIMB Director Professor Rishikesha T Krishnan, Dean Programmes Professor Abhoy K Ojha, Chairperson Admissions and Financial Aid Professor Ashis Mishra, Chairperson of PGPEM Professor Gopal Mohapatra and Dean Administration Professor Rajendra K Bandi addressed the students.
---
IIMB's Centre for Software and IT Management co-hosts two-day summit on product management renaissance
Industry and academia focus on the need to drive innovation in the global marketplace & award projects, papers and products
The Centre for Software and IT Management (CSITM) at IIM Bangalore and the International Association for Software Product Management (ISPMA), supported by Infosys Finacle, focused the spotlight on the role and skillsets of Product Managers in COVID times.
The two-day collaborative virtual conference had over 250 individuals, from academia and industry and from across the world, share their product management experiences. New and seasoned digital product management stars spoke on ways to drive innovation in the global marketplace.
Co-Chairs of the summit Dr Shankar Venkatagiri, faculty in the Information Systems area at IIM Bangalore, and Hans-Bernd Kittlaus, Chairman, ISPMA, Professor Rishikesha T. Krishnan, Director, IIMB, and Prof. Rajendra K. Bandi, Chairperson of CISTM, addressed the gathering on March 19th. The summit consisted of three tracks – Academic/ Research, Industry, and Workshops.
---
VIRTUAL SESSION BY PROFESSOR PHILIP KOTLER
MaSh, the marketing club set up by the PGP students of IIM Bangalore, hosted a virtual talk by Prof. Philip Kotler, Kellogg School of Management, Northwestern University, as part of 'Mark my Words', a special event at SMaSH 2021, the marketing fest.
The session, moderated by Prof. Avinash G Mulky of the Marketing area at IIM Bangalore, was attended by more than 850 participants, including B-school students, alumni and senior faculty members. The session revolved around some of the books written by Prof. Kotler, namely Innovation and Marketing, Brand Activism, Marketing 5.0, H2H Marketing, Social Media Marketing, Common Good and Health Care Marketing. It was a well-received seminar with detailed accounts of the thought process and research that went behind publishing each of these books. The discussion also focused on consumerism and its impact of the planet.
The session was also attended by Prof. Padmini Srinivasan, Chairperson of IIMB's two-year full-time MBA programme – Post Graduate Programme in Management (PGP), and faculty in the Finance & Accounting area.