Snippets
IIMB alumnus Manuj Khurana appointed Policy and Business Development Head for Tesla India Operations
An alumnus of the 2015 batch of IIMB's two-year full time MBA – the Post Graduate Programme in Management, he was among the top-20 students admitted to IIM Bangalore who were nominated for the Aditya Birla Scholarship. Prior to Tesla, he has held senior positions in large organizations like Accenture and Invest India, and is the Founder of NewMo.
Tesla has recruited Manuj Khurana, a former executive of India's investment promotion body Invest India, in the first major hire to lead its policy and business development efforts in the country.
We wish you many congratulations.
---
Sathya Prathipati makes it to the Economic Times 40 under Forty List
Economic Times #ET40Under40, regarded as the definitive listing of India Inc.'s leading young business leaders, has featured IIMB Alumni Sathya Prathipati on the 2021 list.
Sathya is a Senior Partner at McKinsey's Mumbai office. He advises consumer goods, pharma, and healthcare clients on performance improvement, corporate strategy, and technology enablement. He has nearly 15 years of experience in his current role, having worked with clients in China, India, Western Europe, and the Americas.
He completed his MBA from IIM Bangalore and holds a Bachelor's degree in Mechanical Engineering from PES Institute of Technology.
We wish you many congratulations.
---
Arthya Wealth raises $1 million in Pre-series A funding
Wealth management and investment advisory firm, Arthya Wealth & Investments on 4th May, 2021 said that it has raised $1 million as a part of its pre-series A funding led by family offices of industrialist Rishi Kumar Bagla (Bagla Group) and technocrat Krishen Lal Khanna (Trenton Investments).
According to the company, the funds will be used for strengthening operations, growing the team and in market expansion.
"We are extremely pleased with the firm validation of our platform and approach towards wealth management from marquee investors and clients across the board. Our organization functions with the motto of simplifying investing, Intelligently. Our endeavor is to plug the quality gap in last mile delivery of judicious advice," said Gaurav Arora, founder and managing director, Arthya Wealth and Investments.
IIMB Alumnus develops portal to solve e-learning issues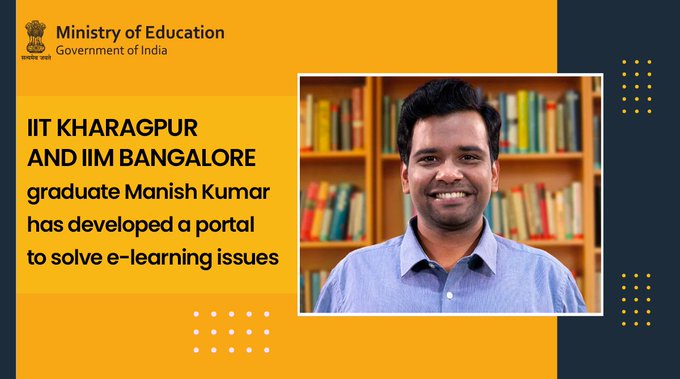 Manish Kumar, an alumnus of IIT Kharagpur & IIMB, has developed a portal, the Curious Minds Institute, to solve all major e-learning issues. Curious Minds teaches students experiments that can easily be replicated using household items.
---
IIMB NSRCEL Start-up wins at Pitchfest-2021,TiE University
Sapientury, co-founded by S.L. Kushal and Komala Channa from RV College of Engineering, is an IIMB-NSRCEL incubated EdTech start-up that has developed a DIY Kit coupled with online micro-courses for engineering students to become industry-ready by learning beyond the syllabus.
More than 48 teams from 26 institutions across Karnataka participated in the virtual event. As part of the competition, teams pitched their ideas to the panel of experts that included successful entrepreneurs, academicians and professionals.
---
IIMB Alumni Anjchita B Nair start-up Culture partners with UNESCO
Culture, a heritage and culture start-up co-founded by Anjchita B Nair, a Heritage Olympiad, an online quiz with questions based on Indian heritage and culture, perhaps the first of its kind in India, was planned for April 18 to coincide with World Heritage Day.